Rotate

4

U

- Best Place to Advertise
Providing Quality affordable Rotator Advertising for you! Advertising since 2015
Need more sales & referrals?
Are you looking for Cheap Advertisement for your site?
Rotate4u gives you the opportunity to show your sites to Millions of People in the PTC and Money Making world. We are advertising our ad rotator site on many stable PTC, Traffic Exchanges, and Money making sites.
Providing Quality Rotator Advertising for you! + PTP site!

Promote Rotate4u.eu and Earn!
Get Paid to promote
A Warm Welcome from

Rotate

4

U


This is a simple

Paid-to-Promote

program where you get paid to promote our links
'



Earn 10% from your direct referral's earning.

Our Current PTP Rates are as follows :
Unique Visits Per 24 hours - --$0,000113 aka 1000 visits - $0.113
Non Unique Visits Per 24 hours - 1st Level - $0.000045 aka 1000 visits - $0.045
Non Unique Visits Per 24 hours - 2nd Level - $0.000015 aka 1000 visits - $0.015
Non Unique Visits Per 24 hours - 3rd Level - $0,000008 aka 1000 visits - $0.008
--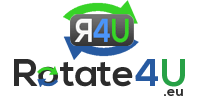 --