Hello Friends
Today I am presenting a new revshare to you. It has been recently launched on 1st september 2016. I was in talks with their admin from past 2-3 days before introducing this site here. Their support is very quick and you can directly chat with their admins on facebook. Right now they have a
$4 signup bonus
also available till 3000 members. They have already reached 2829 members till now. So only limited spots are available for signing up. Also I have secured a deal with the admin to provide all my referrals
25% refback
. He was more than happy to do this for me. We have actually got along in these few days! So as told by the admin, this revshare is built to last for at least 1 year, but they aim for 5 years. And this is because of more focus on advertising and generating fresh revenues, redeposit and repurchase rule, only level 1 commissions, lower ROI compared to other revshares etc. So yes, "this revshare won't last forever, but it will last enough to allow members to profit". Some details about this revshare.
Details:
Name:
Dhoomrevshare
Origin:
India (Indian money earning sites are actually doing great these days, e.g. Firstbitcoinrevshare, Dollarclix etc.)
Launch Date:
1 September 2016
Admins:
Chandrapal Singh, Pradeep Kanaujia, Rahul Choudhary
Support:
Rahul Kumar
Category:
Advertising And Revshare
ROI on Adpacks:
110%-130% (Dependant on Adpack Plan)
Referral Commissions:
10%-15% (Dependant on Adpack Plan)
Payment Processors:
Payza, Perfect Money, Payeer, CoinPayments
Advertisement Services:
Business Directory, PPC, PTC, Banner Ads, Login Ads, Text Ads
Minimum Deposit:
$5
Minimum Withdrawal:
$10
Repurchase Rule:
Yes (20%-40%)
Redeposit Rule:
Yes (50%)
Necessity to buy lower value packs before higher value adpacks:
Yes
Built to last:
1+ year (Target: 5 years)
Daily Surf Ads required to get Adpack Earnings:
5 (Cheap Surf Free Addons also available)
Join here:
Adpack Plans:
Redeposit Rule:
It has been implemented to bring fresh investments into the system and also to discourage members who just refer other people to revshare but don't buy adpacks themselves.
According to this rule a member must redeposit 50% amount back to his account from outside after every withdrawal. If he/she does not redeposit 50% amount back, then withdrawal button becomes inactive, till 50% redeposit done.
Redeposit Rule Extra Bonus
This bonus available only to members having Adpack plan 1 and 2. After completing the redeposit(50%), members will receive the above stated bonus in their accounts.
Join here:
The biggest question that you might ask me is that, "Why have redeposit rule, when repurchase rule is already there?"
I asked the same question to admin, and here is what he replied.
So basically this revshare has been developed for a longer shelf life or stability. It is ideal for people who want to make semi-long term investments. I have already made by first deposit here. And I will keep depositing more amount in coming days.
Here is screenshot of my deposits: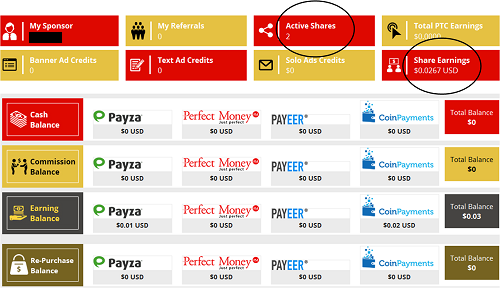 As usual I am offering
25% refback
to my referrals and I have already talked to admin about that. He will send the refbacks on weekly basis. Also don't forget that there is
$4 signup bonus
going on right now, available to first 3000 members. So by investing just $6, u can buy adpacks of $10. Even if u don't have money to invest right now, you can still join and reserve your position. You just have to provide your payment processor address to get the bonus, which will be credited within 1-2 hours.
Join here:
Join here now: https://dhoomrevshare.com/
Please feel free to ask any question here. If u wish u can also post a quick message when you join the site.
Thanking You
Siddartha Gupta